mSCD Clinician Resources
Websites
|
Presentations
|
Brochures
|
PRODUCE Study Website
The PRODUCE study, which stands for Personalized Research on Diet in Ulcerative Colitis and Crohn's Disease, will compare the effectiveness of a strict Specific Carbohydrate Diet (SCD) versus a modified SCD in reducing symptoms and inflammation in people with IBD. The organizers of this study prepared many resources for participants that are helpful in understanding the basics of the diet.

The study documentation includes specific guidelines for implementing modified SCD, including which foods are added, and how much of these added foods are allowed.
PRODUCE Study Website Highlights:
PRODUCE Study Materials for Enrolled Participants: On this page, you will find PDFs intended for enrolled participants, but that are useful for anyone implementing SCD or mSCD. Documents include the following: meal plans, FAQs, guide to reading food labels, instructions for making SCD yogurt, managing social activities, SCD brands, SCD snacks, SCD resources, SCD summaries (brief and detailed), recommended food stages for the study, SCD supplements, recipe links, and weight loss prevention.

Websites
|
Presentations
|
Brochures
|
Listen to the Experts Share their Wisdom.
Diet in IBD: From the Microbiome and Beyond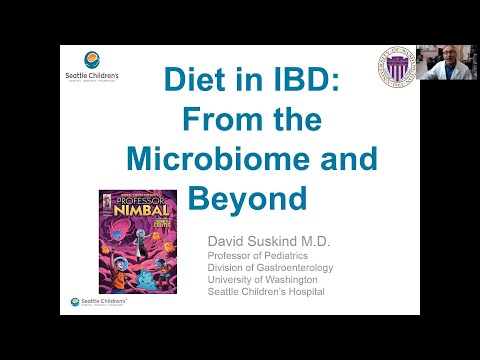 David Suskind, MD
Websites
|
Presentations
|
Brochures
|
Nutritional Therapy for IBD Brochure
SCD, mSCD, IBD-AID, AIP, CDED, EEN
Nutritional Therapy for IBD
This tri-fold brochure provides information about our organization, illustrates options available to patients, and provides info on the Patient Pathway for patients to learn more about nutritional therapy.
---