IBD-AID Clinician Resources
Websites
|
Presentations
|
Brochures
|
Websites
|
Presentations
|
Brochures
|
Listen to the Experts Share their Wisdom.
IBD Anti-inflammatory Diet or IBD-AID: Proof of Concept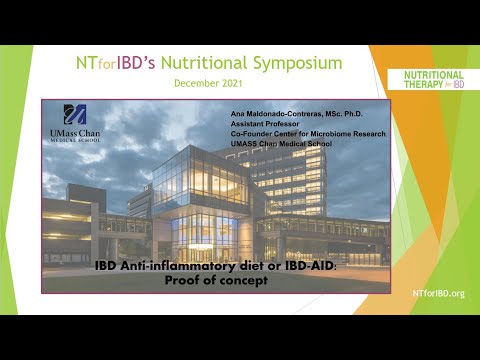 Ana Maldonado-Contreras, MSc, PhD
Dr. Ana Maldonado-Contreras, a lead researcher in IBD-AID explains the relationship between diet, microbiome and immune function with the design and rational of IBD-AID to manipulate the microbiome. She shares the recently published data of the impact of IBD-AID on the microbiome and cytokine levels specific to food components.
Barbara Olendzki, RD: Diet, IBD & the Microbiome
Soapbox #1054 Barbara Olendzki and Joshua Shi
Barbara Olendzki, RD
Mauro's guests are Barbara Olendzki and  Joshua Shi who are here to tell us about Inflammatory Bowel Syndrome and Inflammatory Bowel Disease.
Voices of UMass Medical School: Your Diet, Your Gut, Your Health
Barbara Olendzki, RD
Barbara Olendzki, RD, MPH, studies how diet affects the microbiome and overall health. She explains the science in a new Voices of UMassMed podcast.
Against the Grain: The IBD-AID: Anti-inflammatory Diet for Crohn's and Colitis
Barbara Olendzki, RD; Samir Kakodkar, MD
Guest: Barbara Olendzki, RD
Websites
|
Presentations
|
Brochures
|
Nutritional Therapy for IBD Brochure
SCD, mSCD, IBD-AID, AIP, CDED, EEN
Nutritional Therapy for IBD
This tri-fold brochure provides information about our organization, illustrates options available to patients, and provides info on the Patient Pathway for patients to learn more about nutritional therapy.
The Melody Trial Brochure
IBD-AID
This brochure can be downloaded and printed for distribution to patients who may be interested in participating in the Melody Trial. Trial description: We are seeking pregnant women to participate in a trial that will evaluate the efficacy of diet intervention during the third trimester of pregnancy. This study's goal is to determine if manipulation of the mother's microbiome, through diet, would benefit their baby. The diet aims to promote a healthier immune system during a critical time of immune system development.
---